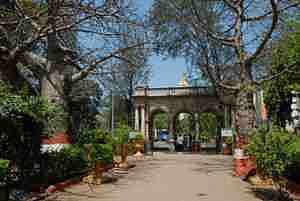 Two baobabs standing as sentinels on either side
of the triple triumphal arch entrance
Veermata Jijabai Bhosale Udyan, Mumbai, popularly known as Rani Bagh, was established as a public botanical garden (Victoria Gardens) in 1861 by the then Agro-horticultural Society. This 53 acre city lung, home to 3,213 trees of 286 species, is Mumbai's largest green open public space. The current entry tariff is low and thousands of common citizens visit daily.
This website was set up to raise awareness about the BMC's so-called redevelopment plans announced in February 2007 to establish an "international" zoo that would have gutted the 150 year old heritage botanical garden. The makeover came at the hefty price tag of Rs. 433 crore and the presently moderate entry fee was slated to rise enormously thus making it inaccessible for common citizens. Our website, established in April 2007, mobilised public support against the redevelopment by hosting an online petition which was eventually signed by over 8,500 citizens (see link 'On-line petition').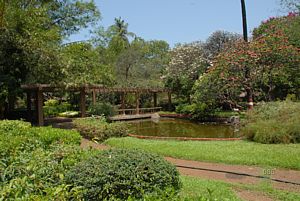 Japanese garden
The BMC's so-called international zoo makeover proposal included Australian, African and Indian zones, outlandish features like an "Indian Ocean", an aquarium, a 3-D theatre, exploration centre, night safari, car park, staff quarters, administrative building and an animal hospital. Rani Bagh has no vacant treeless space for the enormous scale of construction activity envisaged - the ill-conceived makeover would have gravely endangered the botanical garden habitat and entailed a massive entry fee hike converting an eco-friendly egalitarian park into an artificial elitist facility.
A five year struggle has led to a severe modification of the earlier plans - responding to innumerable representations and formal hearings the two statutory bodies whose approval is mandatory for any redevelopment, namely, the Central Zoo Authority and the Mumbai Heritage Conservation Committee have directed that the botanical garden area remain untouched and that only existing animal enclosures be renovated. The cost has been scaled down to Rs. 150 crore - consequently the entry fee will remain moderate ensuring access to common citizens.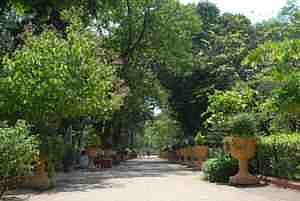 A green and glorious avenue beckons as you enter
Currently the BMC has formulated a redesigned plan that has maintained the primacy of the botanical garden, retained all pathways and the axial planning element in keeping with MHCC directives. We have objected to a section of the pathways designated as a 'service road' as the garden area lying beyond it could be rendered inaccessible to the public. In addition, we have protested the proposed construction of 4 buildings housing 116 flats for staff on 'Parcel C' as this area should legitimately be added to garden space. We await a response to our representations. We remain acutely conscious of the need to remain vigilant.
The year 2011-2012 marks the 150th anniversary of the heritage botanical garden and we plan to work alongside the BMC to host a series of programmes - nature trails, workshops, seminars, publication of educational material and the release of a commemorative postal stamp. Join us in celebrating 150 years of Mumbai's only heritage botanical garden and largest green open public space.