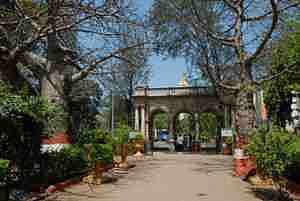 Two baobabs standing as sentinels on either side
of the triple triumphal arch entrance
Why was the Save Rani Bagh movement initiated?
The Save Rani Bagh movement was begun in April 2017 by a group of nature enthusiasts who had banded themselves into an informal Committee to protect the heritage botanical garden of V.J.B. Udyan, popularly called Rani Bagh, from the forces of so-called redevelopment. After five years of sustained activity, in October 2012, the Committee undertook to formally register itself as a public charitable trust by forming the Save Rani Bagh Botanical Garden Foundation, with the express aim of consolidating the struggle to protect the heritage botanical garden, to generate greater public awareness about its many features and to strive to promote in myriad ways.
The Beginnings
The story begins in April 2007 when the Municipal Corporation of Greater Mumbai announced a grandiose plan to install a zoo to international standards in Rani Bagh at a whopping cost Rs. 433 crore! The astronomical price tag and gushing media reports clearly indicated that construction activity was envisaged on an enormous scale - this on a 60 acre campus, home to 3,213 trees, where there was virtually no treeless space available for any kind of construction. Fearing that the proposed international zoo would obliterate the 150 year old heritage botanical garden and gravely endanger its 3,213 trees and diverse flora and make the entry fee prohibitively expensive thereby denying entry to common citizens, we undertook to roundly oppose the proposal at all levels using every democratic avenue open to common citizens.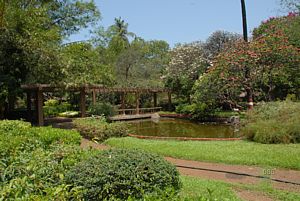 Japanese garden
Protecting the botanical garden
Over an eleven year period we have gathered, analysed and cross verified voluminous data under the Right to Information Act from all official bodies, and used it to buttress our stand that the botanical garden was at grave risk from the BMC's ill-conceived and dangerous proposal. We vociferously represented before bodies such as the Municipal Corporation of Greater Mumbai (MCGM), the central Ministry of Environment and Forests (MoEF), the State Government, the Central Zoo Authority (CZA) and the Mumbai Heritage Conservation Committee (MHCC). Our hands were strengthened by public and media support as also the backing of a range of environmental and public space groups. A protracted struggle, in the course of which we also knocked on the doors of the Mumbai High Court under writ jurisdiction and attended several official hearings before the MHCC and the CZA, resulted in the vexed BMC proposal being rejected by the MHCC in March 2011. A revised proposal, (which ignored many of the stipulations set by MHCC) was similarly rejected in November 2014. Consequent to our sustained campaign, in early 2016, the Municipal Commissioner initiated a process of dialogue with the Foundation and directed a team to closely examine the proposed redevelopment Master Plan with the Foundation Trustees and modify it in the interest of the botanical garden. Through the year 2016 the Foundation has met the Municipal team each week to re-work the Master Plan in order to ensure that renovated animal enclosures adhere to the footprint of existing animal enclosures thereby protecting and preserving the botanical garden space. These weekly meetings have continued through the year 2017 and many suggestions regarding the heritage and botanical aspects of Rani Bagh have been accepted and implemented by the Municipal Corporation. The struggle to protect the botanical garden is an ongoing one and forms a large chunk of our work. For details go to the link
"Our Struggle"
.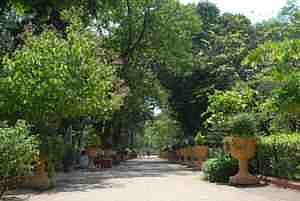 A green and glorious avenue beckons as you enter
Raising awareness about the botanical garden
Together with our struggle-oriented tasks we have constantly tried to raise public awareness about the botanical garden through publication of brochures, participation in seminars and public events and through educational activities such as nature trails and audio-visual programmes conducted for groups of students and lay people. We have facilitated a slew of improvements and enhancements to the heritage and botanical garden aspects of the facility by affixing name plates on each tree (over 3,000), designing information plaques, establishing a butterfly garden and formulating plans for a nature information centre. A botanical garden field guide and nature trail information guides are on the anvil.
Rani Bagh 150 Years published
it is a matter of great satisfaction to us that we have been able to celebrate 150 years of Rani Bagh by jointly publishing in 2012, a large format richly-illustrated book titled Rani Bagh 150 Years showcasing the botanical, historical and cultural aspects of this premier public space. This exhaustive work, with essays by experts in their respective fields, will remain a living testament to Rani Bagh's unique character and legacy. In 2013 a Marathi translation titled Ranibaag 150 Varshe was also published. Both books can be found in most public libraries and libraries of many educational institutions. It has been an ongoing endeavour to ensure that the works reach a wide audience, especially students. For details go to the link: Publications.
Chief objects of the Foundation:
To protect the entire area and Renaissance layout Rani Bagh's botanical garden and ensure that public access remains affordable.


To publish field guides, train volunteers and conduct educational/ awareness-raising events to inspire citizens, particularly the youth, to take greater interest in Rani Bagh's natural and built heritage.


To enhance the value of botanical garden and its floral diversity by assisting the Municipal Corporation in laying out specialized gardens preparing educational material, conducting workshops etc.


To stress the need for open spaces and gardens in the city and harness all democratic methods to prevent felling of trees and encroachment of open public spaces and to promote the preservation of existing gardens, particularly botanical gardens.


Trustees
Hutokshi Rustomfram
Shubhada Nikharge
Katie Bagli
Hutoxi Arethna
Dr. Sheila Tanna