Saving Mumbai's Heritage Botanical Garden
The Struggle of the Save Rani Bagh Botanical Garden Foundation
Introduction
It is impossible to talk about Veermata Jijabai Bhosale Udyan, popularly known as Rani Bagh, without using superlatives - Mumbai's most visited and most affordable park, largest green open public space, only heritage botanical garden, largest agglomeration of trees (3,213), widest species diversity (843 plant species belonging to 149 families). . the list is seemingly endless. (A later tree survey conducted in 2016 by Municipal Corporation of Greater Mumbai, showed that the botanical garden is home to 4,131 trees of 256 species belonging to 54 botanical families.)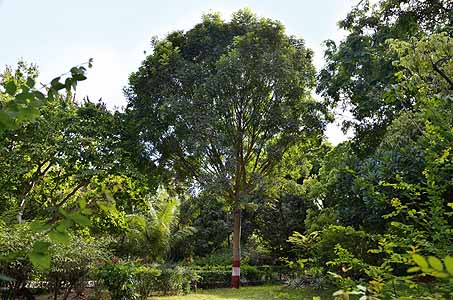 Above: Welcoming vistas - a rich and diverse botanical garden - definitive
archival documents stand testimony to its existence, value and growth
over the past 150 years

The immense value of a public botanical garden can be appreciated when we consider that Mumbai has the lowest open space to population ratio in the world 0.03 acre (0.12 hectares) per 1,000 people against the international norm of 4 acres (1.62 hectares) per 1,000. Rani Bagh functions as a vital green lung for the city, attracting an average of 8,000 visitors in a day, climbing to 40,000 on holidays. It is blessed with very fertile soil and trees here grow to girths and heights not usually seen in Mumbai. This habitat supports a rich diversity of fauna.
Established by the Agri-Horticultural Society of Western India in 1861 as the Victoria Gardens, the botanical garden was laid out on 33 acres (3,546 square metres) of land in Byculla. In 1890, 15 acres (6.7 hectares) were added to establish a small zoo. At the same time, the world economic recession led to the bankruptcy of the Agri-Horticultural Society which ceased to exist and the Bombay Municipality took over Victoria Gardens. Ever since then the botanical garden and small zoo have co-existed. In the 1990s two additional adjacent plots were acquired, bringing the total area to 53 acres (21.45 hectares).
In keeping with the European tradition of the day, the botanical garden was adorned with various monuments - a clock tower, a museum, a bandstand, the triumphal triple arch or Italianate gateway, a conservatory and several imposing statues - a classic blend of built and natural heritage. The stately museum, clock tower and triumphal arch are made of Porbandar stone. The Italianate gateway with its Corinthian columns harmonizes with the design of the museum, presenting an imposing gateway to the natural beauty within the park.
The gardens were laid out in the classical Renaissance axial planning design prevalent in many European cities. The pathways are wide and radiate in all directions, allowing the huge numbers of visitors enough space to wander about and enjoy the green space. All axes and pathways are flanked by charming internal gardens. George Birdwood, the first Curator of the Victoria and Albert (now Bhau Daji Lad) Museum described Victoria Gardens as a "garden of delight". Unlike many manicured parks Rani Bagh has a natural, welcoming, wooded ambience. In recognition of the importance of the concept of green heritage, VJB Udyan has been accorded the status of a Grade II-B heritage site (serial no. 530 Schedule of Heritage Regulations) and the Mumbai Heritage Conservation Committee (MHCC) has listed 'botanical garden' as a special feature.
Ominous Clouds of "Makeover" Gather - The Save Rani Bagh Botanical Garden Committee is born
In February 2007 a most severe blow was dealt to the 138 years of coexistence of the botanical garden and zoo. With much fanfare the Brihanmumbai Municipal Corporation (BMC) announced its plans for a makeover without parallel. An allegedly fuddy-duddy park was to be transformed into a Singapore-style "international" zoo at the astounding cost of Rs 433 crore. The "international" partners of the project: Messrs. H.K.S. Designer and Consultant International, for a hefty fee of Rs 4 crore, set about designing the new "international" zoo.
For a group of us friends and botany enthusiasts (Hutokshi Rustomfram, Shubhada Nikharge, Katie Bagli, Hutoxi Arethna, Sheila Tanna and Renee Vyas) who frequented the gardens and parks in and around Mumbai, Rani Bagh was a favoured haunt. We were shocked when we heard of the redevelopment proposal, knowing that Rani Bagh had no vacant treeless space that could be earmarked for the proposed new zoo. In April 2007 we decided to band together and investigate. We found that we had entered the arena of struggle at an opportune moment - the BMC proposal had not yet received the mandatory approval of two statutory bodies: the Central Zoo Authority (CZA) and the Mumbai Heritage Conservation Committee (MHCC). We attended Right to Information (RTI) workshops and set about gathering the minutest data available - correspondence, plans, minutes of meetings etc. We resolved to neither seek nor accept any funding and shared the expenses among ourselves. Soon we set up a website, floated an online petition and began garnering the support of common citizens and environmental bodies. After five eventful years the Save Rani Bagh Committee has been registered as a public charitable trust, the Save Rani Bagh Botanical Garden Foundation.
Makeover Menu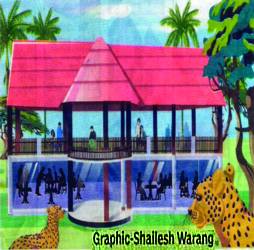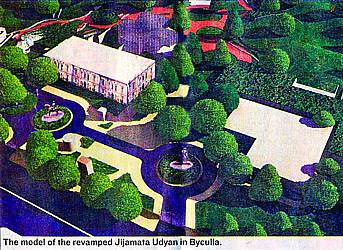 The heavy construction activity envisaged was sure to turn a natural green heritage site into a synthetic glass and concrete zoo. The list of new features was mind-boggling: Australian, African, Southeast Asian and Indian zones, an aquarium, night safari, restaurants, even an artificial Indian Ocean. Where indeed was the space or the need for this elaborate amusement park? Even a glass-walled fine dining eatery was planned, from where well-heeled patrons could view cheetahs as they wined and dined.
Above: A recipe for disaster. Images reproduced from a report announcing the makeover
(Maharashtra Times of March 6, 2008)
Existing and proposed land use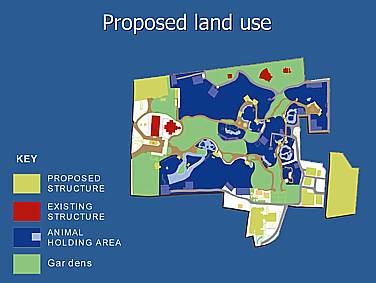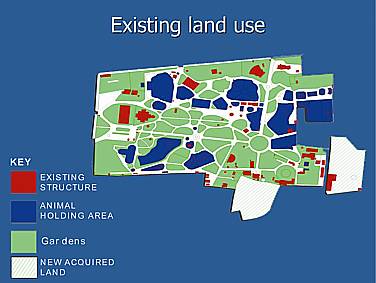 Note the dense greenery in the layout drawing titled "Existing land use". As much as 63 per cent of the land is denoted in green as area under garden, while the area marked in blue denotes existing animal enclosures. In contrast, note the shrunken green area in the drawing titled "Proposed land use" and the correspondingly increased area under animal enclosures.
Above: Note the shrinkage in the garden space and the corresponding increase in the space for animal enclosures in the graphic.
Drawings by Priti Kolambekar
Pathways - heritage layout disregarded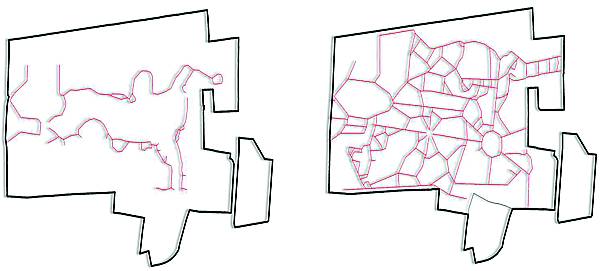 We successfully argued before the MHCC that the existing layout of Rani Bagh following the Renaissance axial design, being integral to its heritage status, needed to be preserved. The extensive crisscross of pathways is a decongestion device. The proposed master plan, however, presented a single pathway. Had it been implemented, it would have definitely led to congestion and overcrowding with the likely hazard of a stampede, given the density of visitors to the park.
Above: The single pathway in the proposed plan would have led to untold over-crowding, obliterated the
classical design and destroyed the flora. Drawings by Priti Kolambekar


Impact of Proposed Makeover
Two major issues faced Rani Bagh in the event of the new master plan ever coming to reality:
Enormous construction activity
The price tag itself sounded the direst warning. If Rs 433 crore of public money was to be spent then surely the scale of construction would be enormous. The first layout drawings we received under the RTI Act confirmed our worst fears. Every pathway, water body, animal enclosure was slated to be demolished and a host of new ones constructed. New moats, electrification, water and sewage lines would have wreaked havoc on age-old tree root systems. The BMC planners acted as if they were dealing with a clean slate rather than a 150-year-old heritage botanical garden.
Egalitarian park turns elitist?
After spending Rs 433 crore of public funds, fixing the post-makeover entry fee was to be the BMC's prerogative. What would the tab be? Rs 300? Rs 400? At Rs 5 for adults and Rs 2 for children the current entry fee is affordable for practically any cross-section of citizenry, keeping the garden accessible to underprivileged sections. The issue of steep entry fee rise together with that of preservation of the heritage botanical garden became the two chief planks of our online petition. We expressed the view that common citizens, starved as they are of green open spaces, have every right to continue to visit Rani Bagh as they have for the past 150 years.
Milestones in a Multi-Pronged Struggle
The Save Rani Bagh Committee harnessed all democratic institutions and processes accessible to common citizens. We forwarded innumerable memoranda, appeared for official hearings and site visits, raised our voice through the media and approached the Bombay High Court under writ jurisdiction.
Harnessing the power of the Right to Information,
The RTI Act became an invaluable tool. Often we procured the same documents from different bodies for instance, the CZA and the BMC and cross-checked data. We exposed the inconsistencies between stated positions and recorded minutes. Interestingly, the BMC later stopped recording minutes of Rani Bagh meetings! Personal follow-up, systematic scrutiny of documentation and detailed presentations have been our strengths. We built up a bank of correspondence with the BMC, CZA, MHCC and the Central Ministry of Environment and Forests (MoEF) and exhorted all four bodies to reject the proposal. As the Save Rani Bagh Committee we took a firm policy decision - one that we have observed to this day. We would approach every public servant but would keep away from power-brokers and politicians of all hues.
Awareness campaigns and solidarity
We raised awareness through nature trails and audio-visual programmes at schools and colleges. The media gave consistent coverage to the issue. Virtually all Mumbai environmental groups lent support - BNHS, WWF-India, Sanctuary Asia, Friends of the Trees, CitiSpace, Awaz Foundation and Bombay Environemtal Action Group In addition the Royal Botanic Gardens Kew, Urban Design Research Institute, Oval Trust, AGNI and Clean Air too endorsed our position. (See Appendix B.) We are deeply grateful to all the bodies listed above. All groups stressed along with us that a heritage botanical garden was location-specific and a large zoo, if needed for the city, could be set up at an alternate location.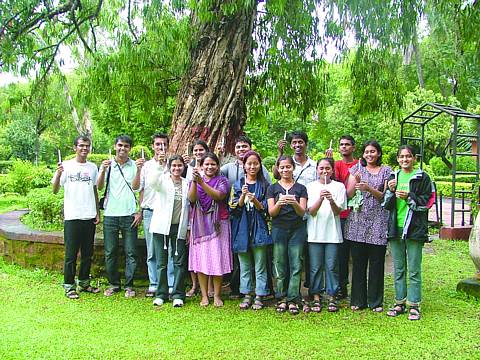 Above: Students of the Sir J.J. College of Architecture take a pledge to preserve the
botanical garden in October 2007 after an awareness raising walk conducted by the
Save Rani Bagh Committee.


Focus CZA
As early as September 2007 we met with the CZA Patnaik-Mehta expert team. Even though their report supported our stand, the CZA accorded conditional approval to the plan stating that not a single tree, bush or creeper was to be cut, transplanted or removed. This farcical condition, is of course impossible to translate into practice. We, however, remained undaunted, converted adversity to advantage and repeatedly quoted the CZA mantra to the BMC not a single tree-bush-creeper could be touched. The CZA officials had informally told us the ball was now in our court; however, we continued to apply to them, visiting New Delhi three times and sending a stream of petitions citing numerous reasons for a review. This persistence bore fruit two years later when the CZA under a new Member Secretary did undertake a review and dispatched an investigating team Dr Eruch Bharucha and Mr V.B. Sawarkar. Once again, we met both experts and explained our concerns.
Knocking on the doors of the Bombay High Court
Since the early days of our struggle we were cognizant of the fact that we may eventually have to file a public interest litigation (PIL). To this end we consciously created a water-tight record forwarding detailed representations to all official bodies. Several lawyers and a few environmental activists advised us to only fight for the survival of the trees and not for the entire botanical garden, its heritage layout and public access to trees. We, however, fought on all three issues. We argued that preserving the geographical area of the botanical garden, its layout and accessibility to trees would actually save them in practice. A halfway compromise would have spelt doom. When the BMC announced that it was going ahead with the plan even though we knew it did not then have the requisite approvals, we filed a PIL to make the plan public. This and a subsequent contempt petition perhaps acted as a warning to the CZA, MHCC and BMC in later years. If we could approach the High Court to make the plan public surely we would do the same to prevent the decimation of the botanical garden.
Focus BMC
Over the past five years of our struggle we have interacted with three Municipal Commissioners, two Additional Municipal Commissioners, three Superintendents of Gardens and innumerable BMC officials and the Union Minister of Environment and Forests. Rani Bagh became our second home and the BMC HQ became our third. We protested every unlawful act and impropriety - unauthorized construction works, BMC corporators on overseas jaunts at the BMC Consultant HKS Designers' expense, an interested MHCC member's wrongful presence at meetings and so on.
Focus MHCC
The struggle to convince the Mumbai Heritage Conservation Committee to reject the plan was long and hard but also had its occasional moments of humour. We played our trump card in 2007 by successfully petitioning the MHCC to include the term botanical garden as a special feature. Our hands were greatly strengthened by the unstinted and rock solid support of Mr D.M. Sukthankar, former Chief Secretary and Chairman of the MHCC, and Mr S. Kale, former Municipal Commissioner and Chairman of the Pune Heritage Committee. They participated at MHCC hearings and meetings with the Municipal Commissioner. We presented minutely analysed data and countered every false claim with hard evidence demonstrating how the BMC manipulated figures to suit its ends.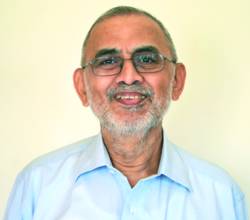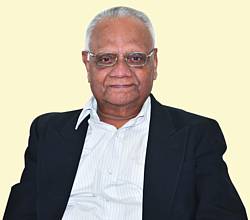 Above: Former Municipal Commissioners and concerned citizens - Mr. D.M. Sukthankar and Mr. S.G. Kale threw their weight behind the cause of protecting the botanical garden and demanded that the redevelopment plan be scrapped. They represented with the Save Rani Bagh Committee at hearings before the MHCC and the BMC


BMC denies existence of botanical garden
At one juncture the then Additional Municipal Commissioner (AMC) Mr R.A. Rajeev denied the very existence of the botanical garden! Thus began a new phase in our struggle. We appealed to all environmental groups for their support to counter this ludicrous stance and furnished every available proof of the existence of the botanical garden we laboured through volumes of gazetteers, histories of Mumbai, met heritage experts and historians, combed national and international websites. The AMC Mr Rajeev was not fazed when shown that BMC's own website listed Rani Bagh as a botanical garden; and not even by the fact that he had himself accepted an Indian Heritage Society award for a beautifully maintained heritage botanical garden in December 2008 from the Maharashtra Governor at Raj Bhavan.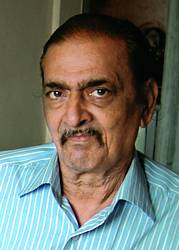 Above: MHCC appointed experts, Dr. Asad Rahmani and Dr. Marselin Almeida rooted for the botanical garden, unequivocally denouncing the redevelopment proposal.

Impasse at MHCC and the appointment of experts
As the BMC refused to acknowledge the existence of the botanical garden, the members of the Save Rani Bagh Committee exhorted the MHCC to fulfil its mandate and protect the garden. To navigate through this impasse the MHCC appointed Dr Marselin Almeida and Dr Asad Rahmani as experts. Both had long been well-wishers of our cause and had denounced the international zoo proposal. Their firm stand helped close the argument regarding the existence of the botanical garden. After 15 months of deliberations, the MHCC returned the proposal in May 2010. One of the objections raised by the MHCC was that the Rani Bagh tree survey was riddled with errors. The BMC then assigned the task of conducting a fresh floral survey to Dr Almeida. The detailed survey, completed in October 2010 does the botanical garden proud 843 plant species in a 53 acre campus is clearly an outstanding benchmark.
Unauthorized construction and dumping of debris
We protested against the unauthorized construction of a temporary animal hospital where hundreds of bushes and climbers were cleared thereby violating CZA's cardinal condition. This later helped us secure a CZA review. In another instance, debris was dumped in an internal garden for 11 months. When after several complaints it was cleared, four trees lay dead. We sent pictures to the BMC, CZA, MHCC and the MoEF, underlining the point that if in the process of debris dumping and removal four trees were destroyed, many hundreds might be sacrificed if the grandiose makeover got underway.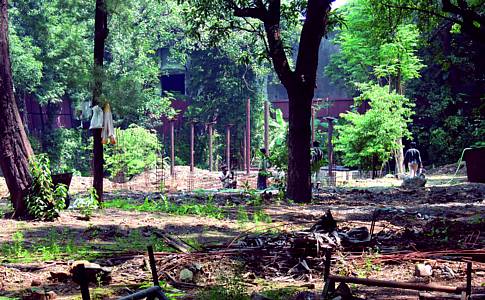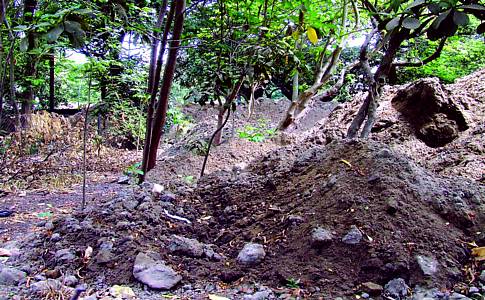 Above left: Repeated representations regarding the unauthorised construction of a so-called temporary animal hospital finally led to a CZA review and eventual rejection of the plan. Above right: Four healthy trees sacrificed due to inexplicable dumping of debris - a grim forecast of Rani Bagh's fate had the makeover gone through.

Backing from the Ministry of Environment and Forests
Two decisive nails in the coffin of the international zoo were delivered courtesy the Minister of Environment and Forests Mr Jairam Ramesh and the Municipal Commissioner Mr Subodh Kumar. In March 2011 we met Mr Jairam Ramesh who wrote to the Maharashtra Chief Minister unequivocally backing our stand. The Minister's office released his comprehensive letter to the press where it was widely reported. (See Appendix B.) Soon after at a Mumbai press conference Mr Ramesh declared that the sanctity of the botanical garden ought to be maintained. Mr Subodh Kumar's announcement of a budget slash from Rs 433 crore to Rs 150 crore also pushed the international zoo concept closer to the waste bin.
MHCC and CZA Reject International Zoo Proposal
In January 2011 following Dr Almeida's floral survey the BMC once again presented before the MHCC the old master plan with superficial tweaking. At a third formal hearing we exposed the usual contradictions and pitfalls in BMC documents and also demonstrated that 866 trees had seemingly vanished - they were not even plotted on the layout drawing. The CZA under a new member secretary, Mr B.S. Bonal, had written to the BMC stating that a large zoo as planned be located outside the city on a 50 hectare plot and asked for a revised plan. We obtained a copy of the CZA letter under RTI and presented it before the MHCC which accepted our contention that that the BMC had failed to disclose the CZA's latest prescriptions. With the final directions from the MHCC to retain all pathways and existing animal enclosures and not build any new ones, the original plan for an international zoo was virtually cast aside. In May 2011 the CZA finally prescribed a strict limit on the number of Indian and exotic animal species and directed that the botanical garden area and its identity be preserved.
Round Two of revised Master Plans begins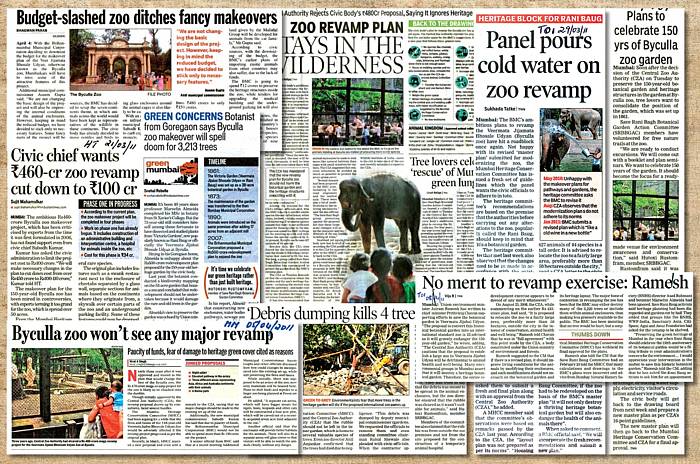 Above: A sampling of press coverage of the plan's eventual rejection

Once the concept of a large "international" zoo was finally laid to rest, it became necessary that a far more conservative plan, restricted to renovation of the existing small zoo, be prepared which would naturally once again need to pass muster with the CZA and MHCC. The CZA took matters in hand and held a meeting with BMC officials to discuss the details of the new plan faithfully adhering to MHCC and CZA diktats. Thereafter, a fresh layout plan dated September 29, 2011 was submitted to the CZA for approval. We examined this plan (after obtaining a copy under the RTI Act) and noted with some satisfaction that most of the botanical garden area was not encroached upon by new animal enclosures and that all pathways had been retained. However, we were concerned on two main counts: (i) that certain pathways designated as service roads could render certain large internal garden areas out of bounds for the public, and (ii) that a few proposed animal enclosures were to be needlessly shifted and would encroach upon the space and greenery of the botanical garden. We submitted our objections to the CZA and BMC in November 2011 and after several reminders received mere verbal assurances presumably meant to assuage our fears. At a formal meeting with the Municipal Commissioner, Shri Subodh Kumar in March 2012 which Mr Sukthankar also attended, the very same oral pronouncements were reiterated by the Additional Municipal Commissioner.
MHCC's second rejection in November 2014
A decisive meeting with the present Municipal Commissioner, Shri Sitaram Kunte in June 2013 at which Mr. Sukthankar and Mr. Kale were also present appeared to turn the tide with Mr. Kunte openly questioning the grave deficiencies in the plan. Eventually after two years of verbal palliatives we received a written undertaking from the Zoo Director that the so-called proposed service roads would be accessible to visitors. This small victory should go a long way in keeping large sections of the botanical garden accessible to visitors. However, the serious issue of proposed animal enclosures encroaching upon the botanical garden space remained unresolved. We, together with Mr Sukthankar and Mr Kale were present for another official hearing before the MHCC on March 18, 2014 where we demonstrated with the aid of drawings and other documents that the MHCC guidelines of March 2011 had been violated in that the area occupied by proposed animal enclosures had exceeded the area occupied by existing animal enclosures by as much 16,000 square metres. We demanded that a substantially enlarged proposed plan be made available in sections to enable careful scrutiny and that each and every tree be positioned accurately on the plan. Eventually in November 2014, the MHCC then headed by Mr. V. Ranganathan, once again roundly rejected the Master Plan and stipulated that a fresh plan be re-cast wherein proposed animal enclosures be located strictly at the footprint of existing animal enclosures. This second victory where the MHCC threw its force behind our struggle was great shot in the arm for the protection, preservation and integrity of the botanical garden.
MHCC accords in-principle approval to rejected Master Plan - November 2015
Successive Heritage Committees headed by Mr. Sharad Upasani, Mr. D.K. Afzalpurkar and Mr. V. Ranganathan had invariably responded positively to our just demands and concern for the botanical garden. However, in a serious setback in November 2015, the present Committee headed by Mr. Ramanath Jha chose to accord 'in principle' approval to the very Master Plan rejected by the previous Heritage Committee in 2014. At this juncture we felt we were left with no option but to approach the judiciary under writ jurisdiction and prepared ourselves for the task.
Municipal Commissioner appoints DMC to review and amend Master Plan incorporating our suggestions
We sent a slew of representations to the BMC, MHCC and the CZA. At a meeting with Municipal Commissioner Mr. Ajoy Mehta in March 2016 to address issues related to the redevelopment plan, he appeared receptive to our concerns. We were surprised when he stated that he would direct the Deputy Municipal Commissioner (DMC) Mr. Sudhir Naik, to review the plan with us and make necessary changes in the interest of the botanical garden. This marked a new phase in our struggle, a chapter where the BMC was ready to sit across the table and heed our objections.
Not lowering our guard while interacting closely at weekly review meetings with DMC's team, from March 2016 to the present time - meetings that have yielded valuable positive changes as also a few disappointments
Given our long experience of the BMC's callous disregard for the botanical garden and a history of manipulation of facts and data, we were naturally skeptical of the outcome of any such dialogue and always remained vigilant. However, after regular weekly site visits with the DMC and his team, we are satisfied that most of our suggestions are accepted and significant changes effected in the Master Plan. A couple of our objections have been disregarded and we persevere in our effort to address these and hope to convince the BMC through discussion and written follow-up. The changed mindset has also resulted in consultations with us before any tree trimming exercise is undertaken and solicitation of our input for garden-related issues. For details of the numerous suggestions accepted and the few disregarded please visit the link:
Update 2017.
Unauthorised Walls
Another contentious issue has been the unauthorised erection of permanent cement and brick walls at different locations within the campus which have been erected without seeking MHCC approval. We repeatedly protested against these unseemly and unauthorised walls as soon as they sprung up in 2012, on the grounds that they restrict visitor access, fragment the botanical space and convey the erroneous impression that areas lying beyond the walls do not belong to the botanical garden. As always, the MHCC responded to our complaints and conducted a site visit where we were invited to be present. In June 2013 we were heartened to know that the MHCC Chairman Shri V. Ranagnathan had issued an unequivocal order to demolish the walls. We have repeatedly exhorted that the walls be torn down but to no avail. When the Master Plan was rejected in November 2014 the Chairman reiterated that the unauthorised walls be demolished. Unfortunately, thereafter in November 2015 the new MHCC granted permission to some walls to remain standing (those around the bungalows and the open-air theatre) and directed that the others be demolished and replaced by a cast iron transparent fencing. Currently, we are happy to report that a long length of the unauthorised wall to the west of the aquatic birds enclosure and visible at the main entrance has already been demolished and replaced by a cast iron heritage fencing thereby restoring visibility and space continuity in the botanical garden. The BMC has also demolished an unauthorised wall section to the west of the open-air auditorium.
Development Plan: Dangerous initial designation and provisions, series of 'suggestions-objections', hearings and finally, a positive outcome of 'botanical garden' designation, though yet awaiting official notification by the State Government
In June 2014, we had represented before the Officer on Special Duty protesting crippling provisions of the Proposed Draft Development Plan for Mumbai 2014-34 namely, (i) the designation of Rani Bagh being randomly changed from 'Garden' to 'Zoo', ii) provision of FSI of 5 and (iii) unprecedented powers conferred on the Municipal Commissioner under the head 'Ancillary Activities'. We filed our 'Suggestions-Objections' in November 2015 and once again in July 2016. Though the subsequent designation 'Garden and Zoo' indicated that a positive change had been made after repeated follow-up, our efforts paid off at a hearing in November 2016, before Mr. Gautam Chatterjee, Chairman Planning Committee, when the designation was further strengthened to 'botanical garden', a designation specially created for Rani Bagh. The same has been forwarded by the Review Panel to the Urban Development Department.
We expect that this new explicit classification will prove to be a shot in the arm and aid in reinforcing the notion of the existence and value of the botanical garden. Unfortunately, the official notification of the new designation by the state government is still awaited after all these years - of the several possible reasons informally cited for the inordinate delay is, of course, the pandemic.
Dogged opposition to steep entry fee hike - 2017:
The chief twin planks of our struggle had always been: (i) the preservation and protection of the botanical garden and (ii) its accessibility by common citizens from all walks of life. Apart from being Mumbai's only heritage botanical garden and largest green public space, Rani Bagh is also the most visited park by far, with an average of 8,000 visitors each day peaking to 40,000 on holidays. Egalitarianism has been the hallmark of Rani Bagh since its inception in 1861. An affordable entry fee of Rs. 5 for adults and Rs. 2 for children facilitates entry of visitors from underprivileged sections. We had feared a steep entry fee hike that could destroy this egalitarian and inclusive ethos, a hike premised on the exorbitant amounts proposed to be squandered on 'redevelopment'. Consequently, we had consistently warned the BMC that we will launch a determined struggle against any attempt to raise the entry fee exponentially, a move that will make Rani Bagh an elitist preserve for the well-heeled. Unfortunately, a newspaper item in January 2017 reported that a 20-fold increase in the entry fee was planned by the BMC. At a meeting with the Municipal Commissioner in July 2016 and thereafter through strongly worded detailed representations, we expressed our opposition to such a retrograde and anti-people move in the strongest possible terms. We set out to campaign against the fee hike in a concerted manner by addressing a joint letter to the Chief Minister signed by retired judges, representatives of environment, open space and heritage groups, floating an online petition on our website to raise awareness, sending individual representations to the Mayor, the Municipal Commissioner, Municipal Corporators and Standing Committee members, and addressing a joint press conference with Trustees of NAGAR and Mr. D.M. Sukthankar.
We continued to oppose Standing Committee's revised proposal to scale down fee hike from Rs. 100 per adult to Rs. 50 per adult:
During the course of our opposition campaign, covered widely in the media, we learnt that the Standing Committee had proposed a 50 percent reduction in the earlier announced fee hike. Finding this scaled down hike too totally unacceptable we reiterated our strong opposition to the Rs. 50 fee proposal as it would effectively create an economic barrier to public entry and once again sent our renewed representations to all public bodies and to individual Municipal representatives.
Struggle to oppose fee hike falls on deaf ears of BMC elected representatives:
In July 2017, the General Body of elected representatives of the Municipal House voted to increase the entry fee from Rs. 5 to Rs. 50 with the caveat that a family of 2 adults and two children would be collectively charged Rs. 100. A few Municipal Corporators abstained from voting but there was no debate in the House and a 156-year-old tradition of egalitarianism was effectively compromised in one action by the Municipal Corporators. This unjust and unfortunate development is without doubt a great loss to the city of Mumbai and to our struggle to preserve the identity, integrity and accessibility of Rani Bagh as a haven for common people from all walks of life. It may be some small consolation to democratic forces that the scale of the hike was reduced from the earlier proposed Rs. 100 to the finally decided figure of Rs. 50 (per adult) and the earlier provision of free entry to senior citizens and Municipal School children was continued into the new fee regime. The new fee structure came into effect from August 1, 2017 and as expected revenues soared and the number of visitors dropped, even as a time-honoured legacy of inclusiveness was betrayed.
Rani Bagh 150 Years published
it is a matter of great satisfaction to us that we have been able to celebrate 150 years of Rani Bagh by jointly publishing in 2012, a large format richly-illustrated book titled Rani Bagh 150 Years showcasing the botanical, historical and cultural aspects of this premier public space. This exhaustive work, jointly published by BNHS, FoT and our Foundation, with essays by experts in their respective fields, will remain a living testament to Rani Bagh's unique character and legacy. In 2013 a Marathi translation titled Ranibaag 150 Varshe was also published. Both books can be found in most public libraries and libraries of many educational institutions. It has been an ongoing endeavour to ensure that the works reach a wide audience, especially students. For details go to the link: Publications
15 years of struggle
In February 2022 we clocked fifteen years from the time we embarked on our struggle to protect and promote the botanical garden and to ensure that this precious public heritage is passed on to future generations. We are grateful for the encouragement and support received from environmental and open space groups as well as from a cross-section of citizens and friends who have shown solidarity with our cause.
After over a decade of labour focused on the struggle aspect of our work, like obtaining information, examining plans and documents, building a mountain of correspondence, representing before various official bodies, meeting a succession of officials, attending official hearings and so on, we are finally at that rewarding juncture where we can focus on doing our bit to enhance the botanical garden and attempt to make a positive change in terms of creating awareness through installation of information plaques and conducting regular tree-cum-heritage trails. Needless to add, we provide all information and images to the BMC and conduct trails totally free of cost.
It is a matter of the utmost satisfaction to us that the authorities are finally willing to publicly acknowledge the existence and historical background of the heritage botanical garden and are willing to speak of its marvelous attributes and its intrinsic value.
Two short films on Rani Bagh providing a glimpse into its botanical and heritage aspects
We produced a short film giving a glimpse into the botanical and heritage aspects of Rani Bagh (subtitled and narrated in English) called V.J.B. Udyan Zoo – Mumbai's Only Heritage Botanical Garden and released it on YouTube in May 2020. The film, admittedly an amateur but passionate effort on our part, has some stunning visuals of Rani Bagh's grand vistas and trees and serves as a good preview for someone who hasn't visited. After some effort and coordination, because of the difficulties created by the pandemic, we were able to produce the film with Marathi subtitles and narration in November 2021. The films can be seen from link: Video.
52 illustrated information plaques installed near respective trees
After years of follow-up, 52 tree information plaques have seen the light of day and are installed near the respective trees, enhancing visitor appreciation of the botanical garden. We furnished photographs and information for these plaques in Marathi and English to the BMC and weighed in on the design aspect as well. If you'd like to see a PDF version of these information plaques please see here.
4 large general information boards on different aspects of the Botanical Garden installed
Four large information boards (4 feet X 5 feet) on the botanical garden, the heritage monuments and layout, the history of the park and the egalitarian aspect of the facility, with appropriate photographs have also been installed at prominent locations in the botanical garden. We furnished the Marathi and English text and photographs for these boards. To see the four information plaques, see here.
Plantation of tree saplings of unusual species
Though we have planted a few tree saplings over the past many years, we are now happy to report that we are able to plant saplings on a larger scale during the past two years. The Director and staff of the Deputy Superintendent of Gardens welcome our suggestions and arrange for the plantation of saplings we procure. Our butterfly garden created a few years back continues to flourish and attract butterflies.
Campaign for official name change of V.J.B. Udyan to add the term 'Botanical Garden'
We have initiated a campaign to change Rani Bagh's official name from 'V.J.B. Udyan va Pranisangrahalaya' to 'V.J.B.
Vanaspati
Udyan va Pranisangrahalaya' (V.J.B. Botanical Garden and Zoo). This campaign is a part of the activities to mark 160 years of Rani Bagh. We call upon organisations and individuals to endorse this demand, which will accord a greater degree of protection to, and enhance the image of the botanical garden. The official name change will also aid activists and nature enthusiasts if a fresh danger to the botanical garden crops up in future.
Celebrating 160 Years of Rani Bagh with nature-cum-heritage walks, films, slide shows, seminars, publications, plaques
We are celebrating 160 years of Rani Bagh with a string of events and programmes. Some of these will be jointly conducted with the BMC and others singly by us. The focus is to inculcate among citizens a feeling of affinity and pride in Rani Bagh's botanical garden which has contributed so much to the city and its inhabitants through its 160-year existence and to show how important it is that this rich legacy be safeguarded for future generations to enjoy and cherish.
A few of the proposals are listed below:
Awareness-raising programmes like nature-cum-heritage trails, slide show presentations, films and discussions conducted on a regular basis by the Foundation for groups like school and college students and teachers, MCGM staff, associations of professionals, citizens' groups etc.
Holding a seminar both in-person and virtually
Setting up two additional theme gardens – a medicinal garden and a sensory garden
Assisting in QR coding of all trees in the campus with information provided on a MCGM website
Planting of unusual species of trees, shrubs, climbers; installing additional tree information plaques
Publishing booklets and pamphlets on Rani Bagh's unique aspects and making them freely available in printed as well as in digital downloadable formats
Holding functions in the week beginning Monday November 14, 2022 culminating in a celebration on Saturday November 19, 2022, the day that marks 160 years of the inauguration
Conclusion
Even though we have largely succeeded in our endeavours so far, we are acutely conscious of the need to be vigilant. No future planner should ever have the scope to proclaim that Rani Bagh is "only" a garden and not a heritage botanical garden.
We started out fifteen years ago, with no influential social contacts or money power. Today we look back and marvel at the number of genuinely concerned professionals, individuals and organisations who came forward to support us. This has been a great learning curve and a heartening experience for us all. The struggle to protect Mumbai's largest green open public space has been a journey punctuated by moments of anguish and moments of joy all in all an exciting and rewarding ride.